This shop has been compensated by Collective Bias, Inc. and its advertiser. All opinions are mine alone. #TearASquare, #Brawny, #TargetFinds, #CollectiveBias
Fourth of July is one our family's favorite holidays. Not only is it right around my daughter's birthday (her birthday is July 3rd), but also because of all the family fun and patriotic festivities. I love the sparklers, barbecues, red, white and blue, face painting, sea of American flags, parades and more. This year is even more exciting because we are taking a road trip to an exciting beach! I want to share my tips for how to keep your fourth of July holiday full of clean fun.
I love road trips, but the one thing I dislike are the messes my kids tend to leave in the car. As I started to prepare and pack for our trip, my list included making sure we had spills and quick clean-ups covered, so we could enjoy lots of good, clean fun!
My kids and I took a trip to Target to pick out some Fourth of July themed things for our trip, so we could celebrate on the road. I made sure to stock up on Brawny® Tear-A-Square™. This particular package contains 6 Tear-A-Square 2-ply white premium paper towel rolls.
Since each paper towel roll has 256 quarter sheets, you get to use only  what you need without any waste. I made sure to even pre tear off multiple ¼ and ½ sheets of Brawny Tear-A-Square to keep handy for my kids in the car. Once we got all of our goodies it was time to hit the road for a Fourth of July Holiday full of clean fun!
Simply hover over the image below to start shopping and preparing for your Fourth of July beach trip, barbecue or parade.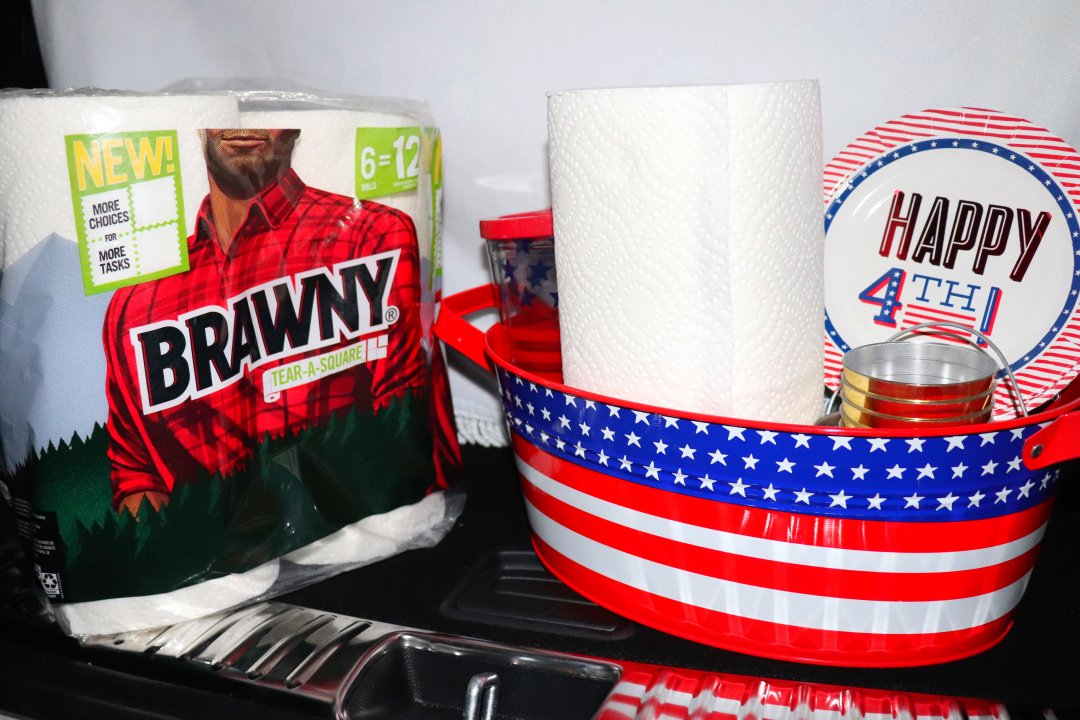 Here are some tips on how to keep your fourth of July holiday full of clean fun.
First make sure, whether you are traveling over the holiday or not, you have Brawny Tear-A-Square on hand because it can handle everything from big messes to little spills and everything in between. Brawny Tear-A-Square paper towels are strong, absorbent and durable, which are the perfect match for all of the festive holiday fun.
Fun tip! Keep pre torn sheets of Brawny Tear-A-Square paper towels on hand to make applying patriotic temporary tattoos or taking off Fourth of July themed face paint simple, plus mess and stress free.
Find a place to celebrate the holiday with family and friends. Anything from a beach trip, staycation, picnic or barbecue, parade and more would make for a ton of clean and family friendly fun.
Make sure to practice safety first when it comes to watching fireworks, playing with sparklers and attending parades. I want everyone to have a family friendly holiday full of clean fun, minus any messes or injuries.
Now that you know how to keep your Fourth of July holiday full of clean fun, especially with Brawny Tear-A-Square what do you plan to do to celebrate?