Disclosure: This shop has been compensated by Collective Bias, Inc. and its advertiser. All opinions are mine alone. #GoldfishGameTime #CollectiveBias
My family and I live in PA where winters can can seem long and harsh thanks to lengthy bouts of snow, ice and chilly temperatures. One of the things we all really look forward to is Springtime. I get excited to open up the windows so I can let the warm breeze waft in, listen to the sound of kids playing outside and also pack up some snacks and head to a local park to enjoy some outdoor family fun.
After being cooped up for what seems like months on end due to the cold weather, my kids are currently in planning mode for some new family friendly activities to participate in this spring.
Even though it recently snowed, I am completely siding with my kids on thinking all kinds of springtime thoughts. My 13-year-old son told me as soon as the winter ends he wants us to have a little family friendly competition this spring. To get a head start I decided to head over to Walmart and pick up a few items that might inspire some family creativity, along with a feel-good snack.
My snack of choice is a win-win for both parents and kids, Pepperidge Farm® Goldfish® crackers Cheddar 30 oz. Carton, and on rollback at Walmart for $6.46 (this rollback price is only available in-store at Walmart). Goldfish crackers are baked with real cheese, made with smiles and have been a long time favorite within our home. Before I left Walmart to head home and start planning for some family friendly competition this spring, I also added Pepperidge Farm® Goldfish® crackers Mix 30 oz. Carton, plastic spoons, 2 small buckets, mini-bubbles, fun pencils, a blow up faux gold crown and some spring-themed stickers to my cart and quickly checked out.
You can shop for Goldfish crackers by clicking on the photo below!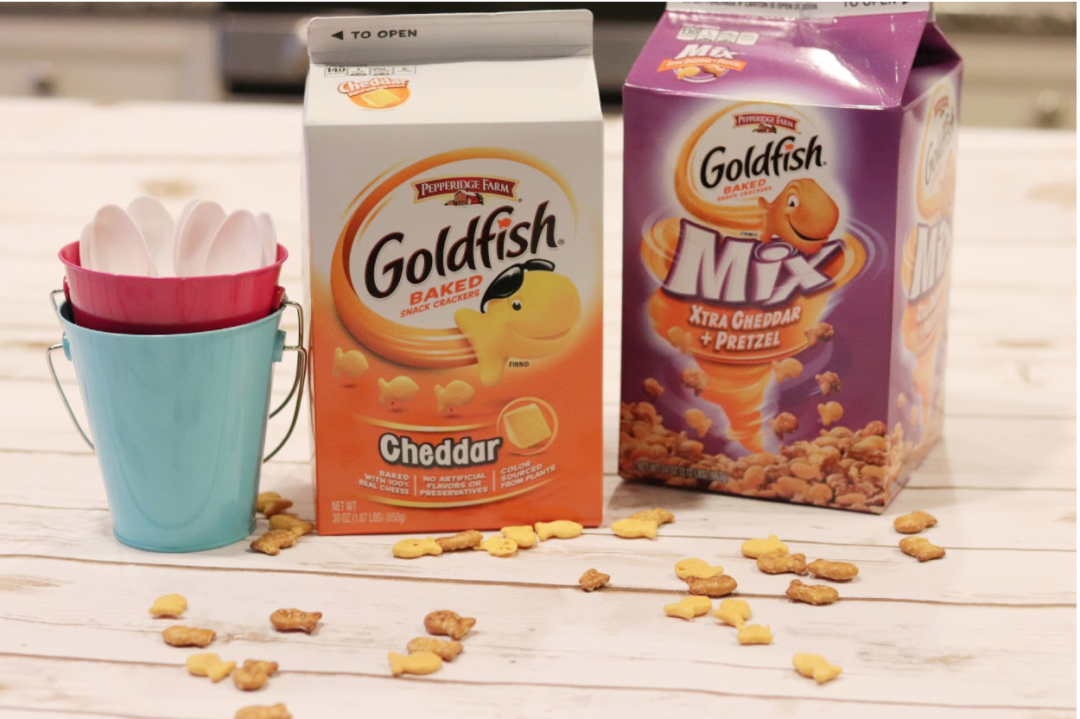 Once I got home my kids and I excitedly started planning some creative and fun ways to keep the entire family entertained, both indoors and outdoors this spring.
Let me show you a simple way for how to have a little family friendly competition this spring. I love this activity because not only does it provide lots of laughs, but it also promotes bonding time between parents and kids, while getting to enjoy a wholesome snack and maybe even win a prize. Doesn't get much better than that.
Let the fun begin with a 30 oz. carton of Goldfish crackers. Take two brightly colored buckets, which the whole family can even decorate with stickers, paint or markers and place them about a foot or more apart. Pick 2 people from your family to kick off the family friendly competition. Each person stands about 10 feet away from their respective bucket with the handle of a plastic spoon in their mouth. On the spoon is as many Goldfish crackers that can fit. Once the players hear the word go they have to carefully race to their bucket and drop in their Goldfish crackers. This is repeated for 30 seconds and whichever team has the most Goldfish crackers in the bucket at the end is the winner.
Sounds fun right?
Now that you know of a playful and whimsical way to have a little family friendly competition this spring, I can't wait to see how you and your family bring in the surprise and delight of game time fun with some delicious help from Goldfish crackers.
Leave a comment and tell me a fun springtime activity or game you and your family could play. For additional game inspiration, check out this site!