This shop has been compensated by Collective Bias, Inc. and its advertiser. All opinions are mine alone. #PlayWithPlaymobil #CollectiveBias
When I was growing up I always dreamed of traveling the world. I even had wallpaper in my bedroom as a kid that was a map of the globe (coolest wallpaper ever). Now that I'm a parent, my wish is for my wanderlust to rub off of my kids. I hope they explore and learn through travel. Since many families (including mine) aren't able to travel whenever they want, I have a unique way to inspire your kids to travel, with the help of PLAYMOBIL toys.
My 8-year-old daughter and I were recently shopping at Walmart when she decided to run off toward the toy aisles.
After I caught up with her I excitedly noticed Walmart now carries PLAYMOBIL toys, which I used to love playing with as a kid.
There was a variety of PLAYMOBIL products to choose from, but my daughter instantly picked the PLAYMOBIL School Bus.
When I asked her why she choose that one she told me the school bus was going to take a cross-country road trip.
Despite her running off in the store, I loved her answer and thought the school bus would be a unique way to inspire your kids to travel, so I bought it for her.
Hover over the photo below to check out the PLAYMOBIL School Bus and even click-through to Walmart so you can shop!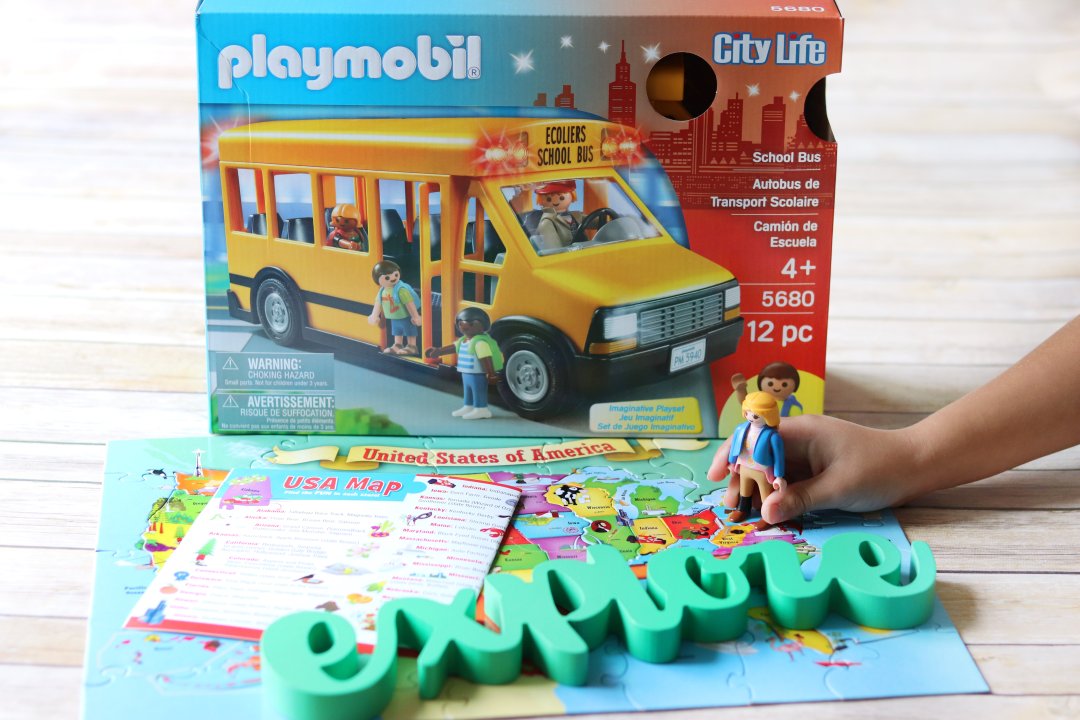 How Do PLAYMOBIL toys provide a unique way to inspire your kids to travel?
When I think of PLAYMOBIL toys the first few words that come to mind are imagination, fun and quality. PLAYMOBIL toys offer real, authentic playtime, which is priceless in my book.
Since there are endless possibilities of what kids can do with these toys I decided to sit back and watch how my daughter's school bus cross-country trip would unfold.
After we opened up the PLAYMOBIL School Bus she put the backpacks on the people (which are included) and told me they are actually travel packs.
Next she gathered a puzzle map of the USA, one of my travel signs, and a travel quote coloring book (I told you we are a travel loving family).
She enlisted her brother's help in coloring and building her USA puzzle map so her PLAYMOBIL School Bus could start its cross-country road trip.
I watched in amazement as she took the time to learn things about each state as the bus drove over it.
My wanderlust heart filled with pride when she and her brother started whispering about their travel bucket lists.
One of the best and also my favorite part about PLAYMOBIL toys is that each time you play there is a whole new experience which equals even more fun.
Now that you know a unique way to inspire your kids to travel, where will you and your family visit next?