This shop has been compensated by Collective Bias, Inc. and its advertiser. All opinions are mine alone. #BigelowTea #TeaProudly #CollectiveBias
A fond memory I have from when I was growing up is watching my Dad each New Year's Eve sit down at his desk with a calendar and steaming mug of Bigelow Earl Grey tea. He used to take a couple of hours on that day for himself in order to write out his goals and plans for the year ahead.
Now that I am an adult, I have kind of adopted my Dad's tradition.
I look forward to the start of a New Year because it gives me a chance to quietly reflect on the previous year while working on setting new goals for the current one.
Just like my Dad always did, I celebrate the New Year and Hot Tea month by breaking out my new planner and making a mug of hot tea. Bigelow Green Tea with Lemon is my flavor of choice, so I head to Walmart first and stock up while picking up a few other flavors too.
If you are interested in enjoying a hot cup of Bigelow Tea while preparing for a more positive and happier New Year like me, simply hover over the photo to click-through to Walmart.com and buy it!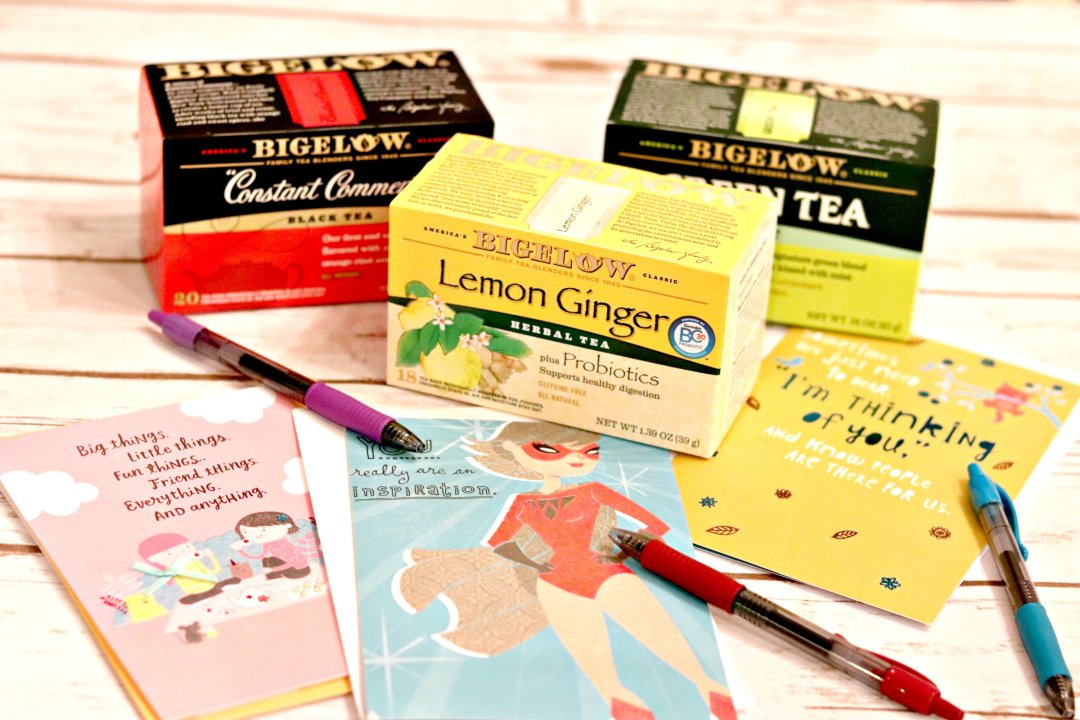 For 2019 I am completely embracing the phrase, "new year, new you" and I want to encourage others to join me in striving to live their best life this year. To help you achieve this I have 7 tips for a more positive and happier New Year to share.
7 Tips For a More Positive and Happier New Year
1. My number one tip for a more positive and happier New Year is to connect more with people, especially those that matter to you most (other than on social media or via text and email).
I plan on randomly sending my friends cards throughout the year which include a variety of Bigelow tea bags. This warm and cozy surprise will let them know I am thinking of them and they are appreciated.
2. Place positive, encouraging messages around your home for daily inspiration.
We have so many motivating books, signs and more all around our home. I want my kids to feel inspired each and every single day, even if it by reading a positive quote.
3. Create a vision board and fill it with your favorite motivational quotes, dreams and goals for the year.
My family and I created virtual vision boards together. I love that we can feel happier and have a sense of accomplishment as we strive to accomplish our goals throughout the year.
4. Commit to reading more
Carve out time for yourself this year to curl up with a book and a warm cup of Bigelow hot tea.
5. Step outside of your comfort zone and learn new things.
Learning new things helps you expand your mind and ignite creativity, which can only lead to positive things in life.
6. Make time for yourself.
The saying of "if you aren't good to yourself then you can't be good for anyone else" is so true. In order to live a more positive and happier life, you must take time for you. Find time to do what makes you happy so you can feel recharged and rejuvenated.
7. Cut out negativity as well as toxic people from your life.
In order to truly have a more positive and happier New Year, you need to distance yourself from negative thoughts and people who may try to dampen your spirit.
Now that you have my 7 tips for a more positive and happier New Year, I hope you are able to be happier, healthier and more positive you this year and beyond.
You can keep up with Bigelow Tea on Facebook, Instagram and Twitter to stay up to date and get inspired.
Good luck and hot tea mug cheers to you and a happy new year!
* This post may contain affiliate links but all thoughts and opinions are my own.